GET $2,500 TOTAL CASH or 0% Financing or BUY IT TODAY FOR $ 26,885
GET $3,000 TOTAL CASH or 0% financing or BUY IT TODAY FOR $21,525
GET $6,050 TOTAL CASH or 0% financing or BUY IT TODAY FOR $29,937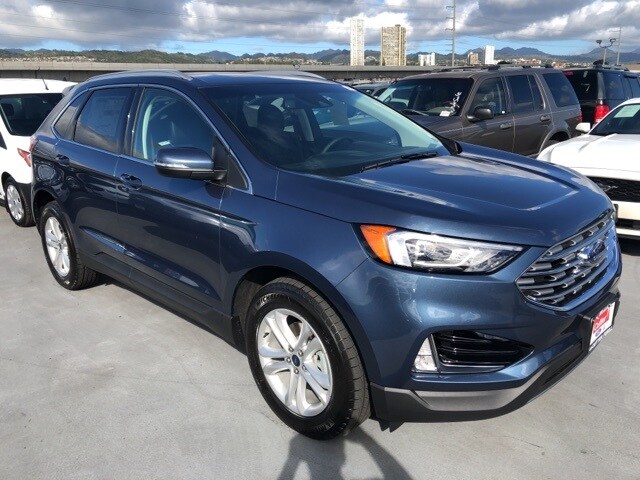 New Ford Models, Used Cars & Premier Auto Service At Cutter Ford Aiea
Cutter Ford Aiea is Hawaii's number one Ford dealership. In addition to offering the best deals on new Ford cars, trucks and SUVs, Cutter Ford Aiea is also a full-service dealership. This means we also offer used cars, certified pre-owned cars, an onsite service center and a parts center. We proudly serve Honolulu, Ewa Beach, Waipahu and beyond, and our team is fully prepared to help you find exactly what you're looking for when you choose us as your go-to dealer.
Why Choose Us?
The Cutter Ford Aiea team always puts our customers and their preferences first. We believe in working with you individually to help you find exactly what you came to us for. Whether it's a new Ford, a pre-owned car, a particular service or repair, or a new part or accessory - we have you covered. Our easy-going atmosphere allows you to browse our new Ford models and used cars freely and without stress, and our team is always respectful of your time, budget and what you need. Cutter Ford Aiea is a pressure-free zone, so you won't feel the burden of pushy salespeople or fall victim to gimmicky sales pitches. Our Ford enthusiasts want to ensure you're satisfied with your dealership experience at the end of the day - whether you've invested in a vehicle or service or not.
New Ford Cars, Trucks & SUVs
The newest Ford lineup is packed with exciting choices, and the Cutter Ford Aiea team is here to guide you to the right option for you. If you know which new Ford you'd like to buy or lease, we can give you a closer look, answer any questions and begin drawing up paperwork. We know your time is valuable, so we like to streamline the whole process. Our Ford enthusiasts are also a great resource if you need to be pointed in the right direction. We'll show you the models that meet your price point, taste and needs best, which often include top selling models like the Ford Mustang, the Ford EcoSport, the Ford Fusion, the Ford Fiesta, the Ford Escape, the Ford Explorer, the Ford Ranger and the Ford F-150.
Used Cars & Certified Pre-Owned Ford Models
Of course, not every driver from Honolulu or Aiea is interested in a new car. Our selection of certified pre-owned Ford models are under warranty, come with a history report and have undergone a strict inspection for quality. This means you're essentially taking the wheel of a newer Ford model that's covered if damage occurs - but for far less. Our used cars, trucks and SUVs are comprised of a wide array of options, including popular makes and models - all of differing model years. We're sure the right choice for your budget and taste is waiting for you on our used lot.
Financing With Your Budget In Mind
Financing your next car is overwhelming at times - but only if you don't have the right team on your side. The Cutter Ford Aiea finance center will work with all sorts of credit histories. We can get you approved for a lease or loan and moving with the Ford or used car of your dreams quickly and effortlessly. Our financing plans offer you terms and agreements you can easily understand, affordable payments and low interest rates.
Service, Maintenance & Repair
Your vehicle's longevity is also a priority at Cutter Ford Aiea. Our dealership offers a convenient onsite service and repair center - staffed with expert technicians who are ready to take on any auto-related task. From basic maintenance and repair to more complicated matters, we have your back. We'll take care of whatever your vehicle needs and make sure you know exactly the service we're performing at the price we're quoting.
Choose Cutter Ford Aiea for all your car-related needs today. We're looking forward to showing you how dedicated we are to delivering an unbeatable and enjoyable dealership experience in the near future.